WELCOME

HISTORY

ALMA MATER

Pictures

INFORMATION

MAIL

FRIENDS

CLASSES

1911 to 1920

1921 to 1930

1931 to 1940

1941 to 1950

1951 to 1960

1961 to 1970

1971 to 1980

1981 to 1990

1991 to 2000
2001 to 2010

Site design by


Custom Graphics

MHS ALUMNI STORIES 2011
SERIES 3
CLASS OF 1946 CELEBRATING 65TH REUNION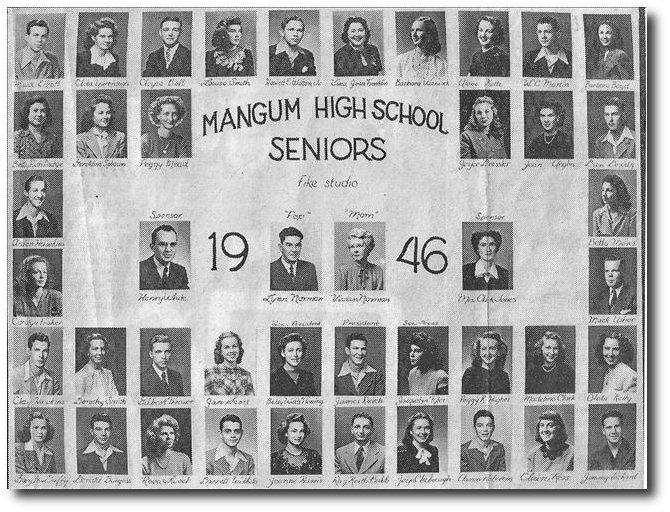 By Joy Hall Grant, Class of 1957, Historian
Assisted by Darrell Wilhite, Jim & Sara Lockerd, Jan Scott-Caffey
Jean Anglin Hawkins and photo work by Denise Webb
In the year 1946, following the end of World War II, people anticipated a better life; many had lived through the Great Depression of the 1930's, and they wanted no more poverty and hardships. Shortages in jobs and housing were facing the 'baby boomers' as couples married and started families. A new house cost $5600.00 while wages were averaging $2500.00 per year. The average price of a 'used' house was $1459.00 A gallon of gas was 14 cents and a new car was $1120.00 Eggs were 46 cents a dozen and tomatoes were 29 cents a pound.
President Harry Truman was leading the United States and Joseph Stalin was General Secretary of the Russia/Soviet Union Central Committee. The Prime Minister of United Kingdom was Clement Attlee.
Worldwide, 30 million people were starving to death in China. The Philippines gained independence after 48 years of U. S. rule. A major earthquake near the Aleutian Islands, Alaska, measuring 7.4, caused a Tsunami; by the time it reached Hawaii some 2400 miles away, it caused the death of more than 150 people. Germany and Japan were holding war crime trials for top ranking military leaders who committed crimes against humanity during World War II.
Meanwhile, Mangum schools were filling to capacity and the population was booming. The Class of 1946 was making history and through the years has always recorded its history via the Alumni Edition of the Mangum Star; this was another class who did not have a Yearbook. In fact, no class in the 1940's had a year book.
The Mangum Star, May 23, 1996, published an article by Darrell Wilhite, celebrating their 50th Class Reunion, which told history since graduation. "Our class was the first to graduate after World War II. Many of the original class members entered the military service prior to graduation and several of these vets returned to MHS and graduated with later classes. The surviving members decided to celebrate their 50th by inviting everyone who was ever a member or a friend of the class to celebrate with them. Helping with this event was Jacque Tyler Schuster and Jean Anglin Hawkins. The class had a Cookout at Jewett Scott's Office Building; an Open House at Madeline Clark-Moore's home along with the Banquet covering three days of celebrating." Mr. Wilhite also formatted several pages of biographies of the classmates who responded to surveys.
Beginning in early February, 2011, Darrell Wilhite, 1946 Classmate, worked by internet with this Historian helping to locate a 500-page Yearbook he assembled for every member of his class on their 50th reunion. Due to his efforts, a copy of this book was located in the Old Greer County Mangum School Room by the office manager, Judy Forehand. The book is full of school history, pictures, and many other pieces of information which helped fill in little chunks of missing statistics for this writer. Hopefully, in the future, more of these classes with no Yearbooks will compile their history for the Museum School Room making it easier for researchers to find their friends and relatives who attended the Mangum Schools.
In a follow up letter dated July 30, 1996, the Reunion Committee who signed off were: Darrell Wilhite, Jim Lockerd and Jacque Schuster-Starr. They reported that 39 total people attended most of their functions and this included members, spouses, former classmates and special friends of the class.
The following history was found in this 300 page booklet: Class leaders of the 1946 class included: President, James "Buddy" Roach; V-President, Betty Wells Fleming; Jacquelyn Tyler, Secretary-Treasurer; Ray Keith Babb was Valedictorian and Carolyn Fraker was Salutatorian. Gayle Duffy was recognized as an Honor Student. Aline Kotte was chosen for the Merit Award for outstanding qualifications essential for success in a teaching profession. Arden Hawkins was the FFA Chapter Junior Master Farmer; Ray K. Babb won $100 for placing 2nd in the Oklahoma Elks' National Foundation Scholarship Oratorical Contest. Joye Clabaugh was Football Queen. Class Parents were Lynn and Vivian Norman.
Rev. Fred A. Tucker, pastor of the Methodist Church, was the Baccalaureate speaker. Elmer Fraker, former School Superintendent and State Adjutant of the American Legion, gave the Commencement address for graduating exercises held May 23, 1946, in the 'old High School Gymnasium'.
Dr. J. B. Hollis served as President of the School Board; Mr. B. F. Johnson was in his first year as Superintendent of Schools and Miss Tom Johnson was the High School Principal. The faculty included: Mr. Weldon Spivey, Athletic Director; Miss Emily Hoover, Mathematics; Mrs. Thelma Alexander, History; Miss Minnie Sumrow, English; Mrs. D. C. McGrady, Jr., Speech; Miss Berniece Gaylord, Spanish; Mrs. Clark Jones, Home Economics; Mrs. Ed Deaver, Commerce; Mr. Ben Sorrells, Vocational Agriculture; Mr. Henry White, Trades and Industries; Miss Virginia Fessler, Vocal Music, Miss Lucille Rice, Science; Mr. C. E. Dodge, Band (and he was also pastor of the Presbyterian Church); and Charles Briley assisted in organizing a dance class for the Alumni Banquet program.
Class sponsors were: Mr. Henry White and Mrs. Clark Jones. The Senior trip was a 3-day venture to Carlsbad Caverns and Black River Village in New Mexico.
The MHS Alumni Association was celebrating sixty-five years as a recognized association billed as the 'largest in the world'. Mr. Bill Ware '40, served as President; Jake Smith, '42, was Vice-President; Mrs. Cleta Brooks, '33; was secretary.; Patricia Cawthon '43 was Assistant-Secretary and Arthur Lovett '15, was Treasurer.
Information from Mr. Wilhite's class yearbook lists the following members: Jean Anglin, Ray K. Babb, Cloyce Bell, Barbara Boyd, Donald Burgess, Betty Carbrew, Joye Clabaugh, Madeline Clark, Betty R. Dodge, Dan Dowdy, Joyce Dressler, Gayle Duffy, Mack Elliott, Carolyn Fraker, Vina J. Franklin, Jeanne Harris, Arden Hawkins, Clay Hawkins, Oleta Kelly, Alene Kotte, Jimmy Lockerd, W. C. Martin, Peggy Mead, Betty Moses, James Roach, Aaron Robertson, Peggy Rose-Hughes, Claire Ross, Jan Scott Dorothy Smith, Louise Smith, Geraldine Splawn, Rose Sweet, Bonnie Thompson, Gilbert Thrower, Jacque Tyler, Mack Usher, Barbara Warwick, Howell Watson, Jr., Mary E. Welch, Betty Wells-Fleming, Darrell Wilhite and Clota Yarbrough.
Ongoing correspondence with this class for 2011 is as follows:
Oleta Kelly-Moss and her husband both live in Oklahoma City and are in poor health. Oleta's brother, Harold Kelly (Class of 1943) also lives in Oklahoma City and visited with Sara Lockerd by telephone. Harold plans to attend this year's activities.
Jacque Tyler-Starr, Mangum, visits with this writer in passing. She is married to Bill Starr, Class of 1945. Bill and Jacque are staunch supporters of the MHS Alumni, the Old Greer County Museum, Mangum Main Street and other groups in Greer County who have an interest in seeing South West Oklahoma thrive.
Jean Anglin-Hawkins, Mangum, visited with this writer by telephone twice. Her late husband, Clay Hawkins, was also a 1946 classmate. Jean's memory is clear when it comes to her 'old and cherished' classmates and she's not too eager to have her picture
taken. We both lived on West Taylor Street growing up……………a nice family of Anglins.
Jan Scott-Caffey, Mangum, has signed up for the banquet and says two of her sisters and brother are all planning to attend. The Scott Siblings of five members may be the largest regularly attending family in the Association today. They cover Classes of 1941 through Class of 1959.
Louise Smith Howard, Mangum, visited with this writer allowing me to learn a little about her life before and after graduation. She was born in Jester, Oklahoma, to W. O. and Addie Smith. They migrated to the Hester area where she received 5th, 6th, 7th and 8th grade schooling as the ONLY student of Faye Potter Howard, a 1923 MHS Grad. Yes, this teacher was to become her mother-in-law in later years. That is an intriguing piece of history for any Historian. Louise mentioned flagging the train from Hester into Mangum to go see a movie and/or shop. Later, they would catch the train back to Hester. How exciting!!! Louise and her late husband, A. O., Jr., are the parents of three MHS Grads: Linda Vannoy, MHS '66; Susan Hamilton, MHS '68 and Cheryl Reeves MHS '83. Louise now has three grand daughters and three grandsons and four great grandchildren. Cheryl Reeves teaches at Edison Elementary and her son-in-law, Glenn Reeves, MHS '83, teaches at the High School. Louise is one of four 1946 classmates still living in Mangum.
Arden Hawkins, Lubbock, Texas, writes that he's been in Sales/Food Broker/Bottled Water Business and on the Bank Board for 23 years. He and wife, Joyce, have been married 60 years and their children are: James, Kaye and Karen. He sends his dues.
Jim Lockerd, also helped this writer with class history, and he plans to attend the activities this year along with wife, Sara Beck Tidmore-Lockerd, 1949 Class. They have four children, two grandsons, four grand daughters and four great grand daughters.
Dan Dowdy, LaGrange Texas, has sent his dues this year.
James R. Roach, Westerly, Rhode Island, sent correspondence stating that his 34-year career was with Mobil Pipeline as Construction Manager. He retired in 1985. He and his wife, Joyce, have two children: Kathy Vaeza and Pamel Koudelka.
Alene Kotte Brown, Amarillo, Texas, sent correspondence to this writer stating that she's a retired Registered Nurse and BSN. Her hobbies are reading, sewing and gardening. Her spouse, Ray, is deceased. Their children are Susan, Kenneth, Michael, Jerry and Patricia. "I can't believe it's been 65 years, " Ms. Brown commented.
Interesting note of a deceased member: In the recent Mangum Mayor's race, the daughter of a classmate has won the title as Mayor of Mangum in a very tight race. Mayor Kathy Tebow is the daughter of 1946 MHS Grad, Barbara O'Toole. Ms. O'Toole died in Tulsa in 2007. Ms. Tebow's grandparents were Albert and Mattie Boyd, early day pioneers of Mangum. In her youth, Kathy spent all her summers in Mangum visiting her grandparents.
March 28, 2011: The latest correspondence is from Clota Yarbrough Parker who lives in Sanger, California, and has for many many years. She enjoys painting (mostly horses) and raising chickens that lay naturally colored Easter eggs. Her sister, Helen Yarbrough Knox, Class of 1936, passed away in 2010. Another sister, Oma Jean Yarbrough (Sanders/Reynolds) from the Class of 1938, is living close to me in Clovis, California. Ms. Parker's husband, John Elvin Parker, Class of 1947, died in 2005. Her children are: Clota Dale, age 59; David Lynn, 57; and Leslie Fern, 53. "I miss all my classmates and wish I could be there. I still feel that Mangum is my home."

E-mail in April 2011 from: Peggy Mead Britton, Sun City, Arizona: "I married Wallace Britton--from Carter, OK, in 1947. We had two daughters. Judy, who has a daughter, Carol, who has a son; this grandson presented us with our first great grandson in July 2010. Carol passed away in Sept, 2004, age 48, with cancer.. Judy and her husband live in Las Vegas, as does her daughter. We see them often. Our grandson, wife and son live near us in Phoenix. Wally worked for Del Webb Co. and was in on the building of Sun City. We had our own decorating business in the Sun City area for 20 years. We have a summer home near Prescott, Az, and get away to cool country in the summer. We have had a good life in Arizona, moving here in 1958. My Mother moved out here after my Dad passed away and was here 20 years. Mangum is and will always be HOME. We grew up in the best of time---we both have so many happy memories of Oklahoma. Wally still has family around Carter.
April 2011: Gayle Duffy Paul lives in Arizona and has children close by. Her brother, Joe Duffy, of Mangum, visits her about four times a year and is visiting her home at the time of this writing.
Other 1946 classmates still connected with the Alumni Association: Madeline Clark Moore, Tomball, Texas; Gayle Duffy Paul, Arizona; Peggy Mead was seen on Facebook, February 2011, according to Darrell Wilhite, and Gilbert Thrower, of Salina, Kansas. We always appreciate any information we can get on whereabouts of classmates.
Records showing the deceased: Clay Hawkins, Joye Clabaugh Heatly, Peggy Rose Hughes-Killham, Barbara Warwick Koker, Claire Ross Lewis, W. C. Martin, Class Parents, Lynn and Vivian Norman; Barbara Boyd O'Toole, Aaron Robertson, Bonnie Thompson, Joyce Dressler Thompson, Mack Usher, Howell Watson, Jr., Jeanne Harris Weatherby, Eddie Wilson, Carolyn Fraker Atkinson, Ray Keith Babb, Cloyce Bell, Dorothy Smith Brooks, Donald Burgess, Betty Carbrew Dodge, Mack Elliott (2010); Betty Wells Fleming, Rose Sweet Florian, and Vina Jean Franklin.
Whereabouts unknown: Betty Moses Hibbard, Oklahoma City: her mail was returned in 2011.
Anyone who can give information or correct the above information on this class, is encouraged to call 580-782-5107. We appreciate all the accurate history we can record.